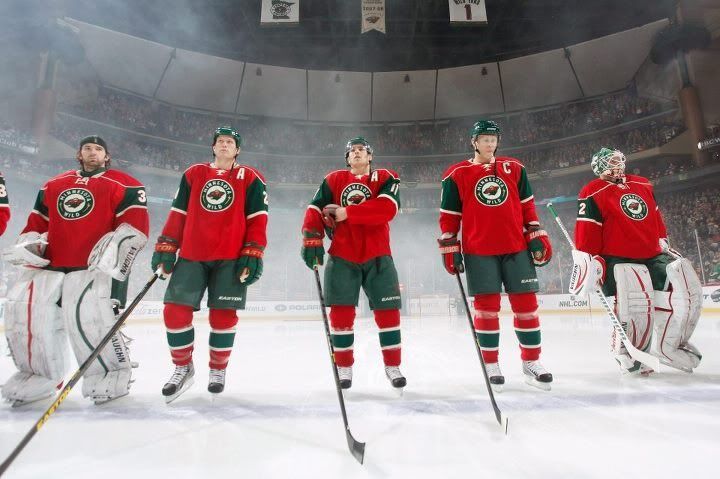 Welcome to the first edition of Wild Tracks, a week to week report of the Minnesota Wild of the NHL. This edition will cover from the start of the season to Monday's game versus the Phoenix Coyotes.
The Wild made some big time headlines over the offseason when they signed Zach Parise and Ryan Suter to identical 12 year 98 million dollar contracts on July 4th, 2012. They also signed smaller names Zenon Konopka and Torrey Mitchell to bolster the third and fourth lines, Konopka has already made Wild fans happy with his busted nose and his pet bunny. With Parise and Suter coming into the Twin Cities, the Wild had some extra special pressure to perform right out the gate and they didn't disappoint.
The Minnesota Wild started out very strong with 4-1 win over the Colorado Avalanche (which included Mikael Granlund, aka Finnish Baby Jesus' first NHL Goal) and battled hard to win 1-0 versus the Dallas Stars. However a 3-1 loss to the Nashville Predators started 3 game losing streak which stretched over the Wild's first road trip to Detroit and St. Louis dropping games of 5-3 and 5-4 (in OT) respectively.
Quickly, the Wild rebounded and had a nice 3-2 win over the Columbus Bluejackets (boy it's nice to see them on a schedule when you need a clean win) and handed at that time undefeated Chicago Blackhawks their first loss with a 3-2 win in a shootout. However the Wild had to hit the road and fell to the Anaheim Ducks 3-1 and then Monday night lost 2-1 against Mike Smith and the Phoenix Coyotes. So at this moment the Minnesota Wild currently sit in third place of the Northwest Division with a 4-4-1 record and nine points. Not exactly the hot start Wild fans (like me) were looking for after such excitement in the offseason.
So what is exactly "Hot" for the Minnesota Wild at this point in the season? Well there is a couple positive to talk about for the Wild. The Wild's first line of Zach Parise, Mikko Koivu, and Dany Heatley has been the driving force behind the Wild's wins so far. Combining in nine games the first line has put up twenty-four points with Zach Parise leading with six goals and four assists for ten points. He scored the lone goal in Monday's loss to the Coyotes which happen to be his 200th career goal.
Jonas Brodin, the nineteen year old defenseman from Sweden, has already turned heads in his six-game NHL career. Brodin started off his first game on the third pairing, by his third game he was on the first pairing with Ryan Suter (more on him later) but he's been facing against some of the top players in the Western Conference and doesn't look out of place at all. Also Niklas Backstrom looks as if he's regained his old form and becoming a weapon in between the pipes. Backstrom is 3-3 with a 2.45 GAA and a .915 save percentage. Yes, I know those aren't great numbers, in fact they're pretty average too bad, but trust me, he's been playing good.
So now what is exactly "Cold" for the Minnesota Wild at this point in the season? Do you have 3 hours to spare? Actually there are only a couple of things that aren't great for the Wild right now. First off in order to be a successful hockey team you must win on the road, however the Wild haven't won a game on the road and aren't looking any better at this moment. Every game I've seen them play on the road (all except the Detroit game) they have looked extremely flat and the power play has been downright awful.
Besides from being winless on the road, you can't be a successful hockey team if all you rely on the first line to score and right now the depth players of the Wild aren't doing enough to have a balanced attack.
For $98 Million dollars you'd think that Ryan Suter would play like a 98 Million dollar defenseman, but frankly right now, he's a disappointment so far. He has the lowest plus/minus at -7, he's still looking for his first goal in a Wild uniform, and every single replay I see of a goal scored on the Wild I see Ryan Suter out of position, looking lost, or getting completely dummied in front of the net. Did he forget his strength and intelligence in Nashville? Sure, he has four assists and averaging twenty-seven mins a night but right now Ryan Suter isn't living up to his contract at this point in the season. I know I'm being pretty harsh right now with just nine games on a new team but this is a shortened season and he's still getting paid for a full season.
I hate to say it but right now Mikael Granlund hasn't been playing very well either. He was slotted on the team's second line, centering Matt Cullen and Devin Setoguchi, but eight games and three points later, he found himself on the left wing with Zenon Konopka and Devin Setoguchi … other known as the fourth line for the Phoenix game. Coincidentally I have to say that the fourth line generated some good chances and was strong on the forecheck so maybe the fourth line duty was a wake-up call for Finnish Baby Jesus.
In this final section I will give you some insight on a Wild prospect of my choosing. For most of the Wild's lifetime they have been marred by terrible drafting and overall a weak prospect pool thanks to Doug Risenbrough, who drafted such hockey gems such as AJ Thelen and James Sheppard. But in walks Chuck Fletcher, son of Toronto Maple Leafs legend GM Cliff Fletcher and Chuck cracked his fingers and said "Let's get to work."
Well maybe he didn't but he did turn the Wild from having one of the worst prospect pools to top three of the league and here is one of his draft picks in Johan Larsson. Larsson was drafted in the second round, fifty-sixth overall in the 2010 draft and this is his first season playing North America. Johan spent the past two seasons playing for Brynas of the Swedish Elite League and was the captain of the 2012 World Junior Championship Gold Medal winning Team Sweden. So far this season Johan has put up twenty-five points in forty-five games for the Houston Aeros of the AHL, the Wild's major affiliate. But point producing isn't Larsson's game. Where Johan excels at is his defensive and grinding style of play, and he's an exceptional leader. I project Johan will join the Wild next season as a call-up and will stick for most of the season and will become a full-time Wild player for the 2014-2015 season.
Swing by next week when I will recap the Wild's next few games which includes Vancouver and Nashville at home and a road trip to Calgary. The road trip to Calgary would scare me a little bit but… it's Calgary so hopefully they Wild can get that first road win and this article will feel a little bit cheerier.
Robert Benhoff
Born with a hockey stick in my hand, I've been living hockey for 27 years and since their inception, I have been a die hard Minnesota Wild fan. Prepare for movie references and possible obscure music quips ahead.
Latest posts by Robert Benhoff (see all)