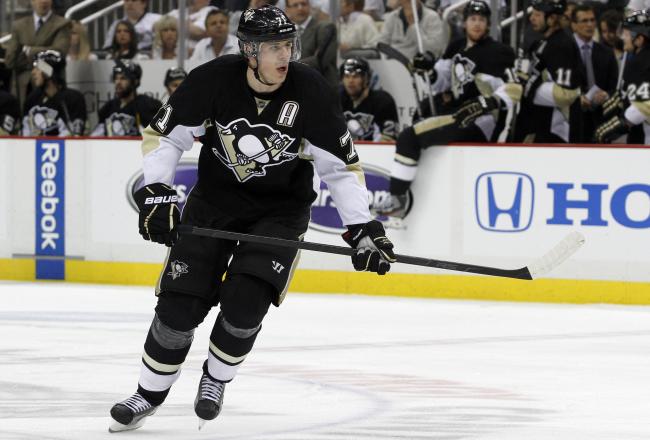 With the hockey season rapidly approaching, there are so many topics left to cover before play begins. One of those topics: who are the ten best players in the game today?
This will no doubt aggravate some, make others nod their heads in agreement, or leave even more wondering who thought it would be a good idea to let me write anywhere for anyone.  That's the beauty of opinions, though.  Let's get to it.
10.) James Neal, Pittsburgh Penguins –This actually wound up being the toughest spot to decide on as it came down to Alex Ovechkin, Ilya Kovalchuk, Zach Parise, and Corey Perry.  But Ovechkin has been on the downswing for years, Parise and Perry are coming off of pretty good but not great years, and I like Neal's potential for this season.
Coming to Pittsburgh in a trade from Dallas to finally provide a scoring winger for Evgeni Malkin and Sidney Crosby, Neal came into his own last season. In his first full season in Pittsburgh, he potted 40 goals and totaled 81 points, becoming one of the premier power forwards in the game.
He uses his size well and plays a hard, physical game that creates turnovers and chances for his linemates.  When he played with Malkin during Crosby's absence, the two were unstoppable and just having Neal on the ice gave Malkin more space and time to do what he does.
Neal, entering his second full season with the Pens and potentially playing alongside Malkin again, could hit 50 for the first time in his career and join the race for the Art Ross.
9.) Pekka Rinne, Nashville Predators — The lanky Finnish goaltender came from nowhere during the 2008/09 season to lock down the starting job in Nashville and has improved his wins total, hovered between .917 and .930 in terms of save percentage, and never had a Goals Against Average worse than 2.53 in the last four seasons. Not only has improved on those key stats but he's grown his workload in the last four seasons from 52 games in 2008/09 to 73 last year.
It's somewhat difficult to put goaltenders on this list because of all the variables that can make them look better or worse than they really are: team defense, shots blocked, goal support.  But Rinne is one of the rare goaltenders who not only makes his team exponentially better but is capable of stealing games.
He's lanky and quick with a fantastic glove and somehow finds ways to put himself in position to stop the puck when it doesn't seem physically possible that he should be able to.  Watch him play and you will find yourself sitting there, jaw agape at least once a game.
He's just hitting 30 so he should still have a few years left of high-end play left in him.
8.) Claude Giroux, Philadelphia Flyers — The 24-year-old Giroux is just now starting to hit his stride.  That's the scary part.  He began his career in 2008/09 with a modest 27 point campaign as a rookie but has since improved his goal, assist, and point totals every year since.  He finally made the leap into the upper-echelon of the league last year with his 93 point season.
He's quick and, despite his small stature, isn't afraid to get his nose dirty; a staple of Flyer hockey. Watching him zip around the ice, using his tremendous vision and following it up with some of the best passes in the game, he has the chance to challenge for the scoring title for a very long time.
It's just a shame he has to play in Philly.  I so desperately want to like watching this guy but often get caught up hating the Flyers instead.
7.) Jonathan Toews, Chicago Blackhawks — Captain Serious looked like he was on the verge of superstardom last season when injury shortened his season to just 59 games.  But all signs indicate he'll be back to 100% for the upcoming shortened season.
Toews is everything you want in a #1 center: tough and physical, defensively responsible, good on faceoffs, and blessed with offensive skill rivaled by few in the league. He does everything for the Blackhawks and is a catalyst for their success.
Just 24 years old, Toews is still learning and growing, which is frightening if you're not a Hawks fan. He's just coming into his own as an offensive player, getting more consistent on a night to night basis, all while growing stronger and more responsible as a defensive player.
The consummate leader, Toews is looking at a career similar to Steve Yzerman: premier scorer, revered leader.
6.) Shea Weber, Nashville Predators — The Yukon Cornelious lookalike is an absolute monster on the ice. At 6'4″, 232 he's as physical as they come and a true shutdown defender. He's the rare type of defenseman who causes his opponents to shy away from the corners when they know he's bearing down on them.
Weber is also one of the premier offensive defensemen in the game as well. His 19 goals last year tied for the NHL lead amongst defensemen and he's been a shoe-in for around 50 points per year for the last few years.
And that shot. Good lawdy, that shot. He's been in what seems like a life-long competition with Zdeno Chara to see who can send a slapshot into orbit.  His shot routinely clocks in around or slightly above 105mph which makes me wonder just what the hell has to be going through the mind of someone willing to block one of his shots.
Weber is the best all-around defenseman in the game today: big, mean, physical, great in his own end, and just as good in the offensive zone.
5.) Steven Stamkos, Tampa Bay Lightning — When you realize that Stamkos scored 60 times last year, you realize just how incredible a feat that is.  Scoring 50 in a year is somewhat rarefied air but 60? That's a whole different stratosphere. And the fact that he did it as a 22-year-old is even more mind-boggling.
Also mind-boggling: though he may be only 22, he's had seasons of 51/45/60 goals. He's still learning the nuances of the game and how to improve himself as a player. He could become a legitimate threat for 70 goals at the rate he's going and only a handful of guys (Wayne Gretzky, Mario Lemieux, Phil Esposito, Brett Hull, Teemu Selanne) have breathed that air.
He does it all with a Hull-like sense of finding the open space and the best one-timer in the game. His wrist shot has also become one of those special shots; that specific skill you wish you possessed.
Stamkos isn't just an elite goal-scorer. He's the goal-scorer in the NHL right now.
4.) Henrik Lundqvist, New York Rangers — The 30-year-old Swedish netminder has been the model of consistency since his debut in 2005/06 when he emerged as the Rangers starting goaltender and became the team's franchise goaltender.
At 6'1″, 195 he's not overly big but he looks much bigger in net than he is. He's so quick and technically sound that he puts himself in a position to make the save almost every time. He's already surpassed 250 wins in just his seventh season, never winning fewer than 30 games along the way. He's been totally healthy thus far and if he continues along the path he's on, he could seriously threaten 500 wins.
King Henrik is one of those rare netminders who makes his team significantly better and has the ability to shift a game, series, or season. He's been consistently great for the Rangers and, during times when the Rangers couldn't buy a goal, not only kept them in games but even won them a few on his own.
All hail the King, the best goaltender in the game.
3.) Pavel Datsyuk, Detroit Red Wings — The diminutive Russian star has been dazzling us for the last decade and it seems like he only gets better as he goes. Along with Toews, he is the best two-way center in the game. While he shares the same defensive aptitude as Toews, he does incredible things with the puck that few others in the game are even capable of:
[youtube_sc url="http://www.youtube.com/watch?v=q6ltAI6PdMo"]
He's done that to SEVERAL goalies.  And it's just a sliver of the things he does.  You could lose and entire day watching Datsyuk clips on Youtube.  He's consistently the best offensive threat the Red Wings have and, at 34, still has a few years left in him to keep making opposing defenders look stupid.
Datsyuk is one of the most dynamic threats in the game and the rare one to apply himself just as diligently on the defensive end.
2.) Sidney Crosby, Pittsburgh Penguins — It's hard to remember that The Kid is still just 25 years old. He's entering his eighth season, though the last two have been marred by an ugly concussion that threatened his career.
When he's healthy, and of late that seems to be a big question, he's the best player in the world. He's strong in the faceoff circle, is attentive in the defensive zone (although not quite on the level of Toews or Datsyuk), and scores at a clip that leaves everyone in awe.
His scrappy attitude and questionable behavior in scrums or when frustrated earn him the ire of opposing fans.  Rightfully so, especially when he seems to be on the receiving end of generous calls from referees.
But he scores and sets up goals from angles that leave you wondering how he knew it would work. He's just hitting the prime of his athletic career and, if he can stay healthy, should be a threat for the scoring title every year for the forseeable future.
Sidney Crosby is the definition of a franchise player and the league as a whole should be glad to have him back.
1.) Evgeni Malkin, Pittsburgh Penguins — For now, at least. Malkin took the reigns in the absence of his dynamic teammate and unleashed his first 50 goal season while hitting the 100 point plateau for the third time.
Malkin defies logic. Someone that big (6'3″, 195) shouldn't be able to skate and control the puck the way he does but he dances through traffic, uses his size to shield the puck from defenders, and finishes/sets up like few others are capable of.
With Crosby back in the lineup and another full year of James Neal, the sky is the limit for the big Russian. He and Crosby should challenge one another for the scoring title this season and for many more going forward.
follow me on Twitter.
Latest posts by Ryan Womeldorf (see all)