6 Flares
Made with Flare

More Info

'>
6 Flares
×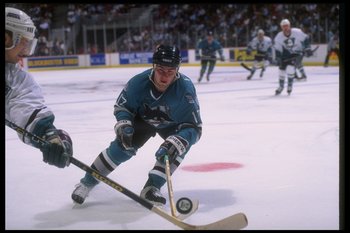 The 1991 NHL Entry Draft was a somewhat remarkable one.
The first round featured five players who would go on to careers ranging from "very good" to "hall of fame worthy".  Markus Naslund, selected by the Pittsburgh Penguins, would go on to become one of the premier scorers of the late 1990′s/early 2000′s for the Vancouver Canucks.
Alexei Kovalev, the enigmatic star most notable for his time in Pittsburgh, was one of the most skilled players to have played the game.  His dazzling stick-handling displays have been matched by few but then again, so was his ability to frustrate any fan base.
Peter Forsberg, picked by Philadelphia 6th overall, went on to a fantastic career. Two-time Stanley Cup winner, Hart Trophy, Art Ross, and Calder Trophy winner, he would also make a name for himself as one of the best playoff performers of his generation.
And Scott Niedermayer. Not really living up to his massive potential until the end of his run with the Devils, Niedermayer would win a Norris Trophy for the league's best defenseman, a Conn Smythe for playoff MVP, and four Stanley Cups.
All were selected in the first sixteen selections.
Most notably, however, is the fact that this was the year that uber-prospect Eric Lindros was eligible.  The 6'5″, 228lb behemoth could score, skate, and fight; naturally, he was anointed the "next one" title to succeed Wayne Gretzky and Mario Lemieux. When Lindros refused to play in the French-speaking province of Quebec, whose Nordiques owned the first selection, he was dealt to Philadelphia in a blockbuster trade that involved Forsberg.
What a lot of people forget is that the second overall selection was a talented winger from Manitoba named Pat Falloon.
Falloon played for Spokane of the Western Hockey League and, after scoring 60 goals in each of his last two seasons, made a name for himself as one of a handful of blue-chip prospects entering the '91 Draft. One article even went as far as to call him the most creative passer in the draft which is saying something considering Forsberg ended up being arguably the best passer of his generation.  The expansion San Jose Sharks made Falloon their first ever selection and hoped he would be a building block for their franchise.
Other than Lindros, the 1991 Draft prospects weren't considered "NHL ready". Yet in 1991-92, Falloon made his debut with the Sharks and put up a very solid 25 goals/59 points as a rookie.   Unfortunately for Falloon, those would both be career-highs.
Developing the reputation of being a lazy player, Falloon would earn the nickname "Fat Balloon" from fans believing he was wasting his talents and wasn't willing to work hard like teammate (and the Sharks' second ever selection) Ray Whitney, whose diminutive size required him to work harder to have success. Falloon's weight (he clocked in around 200lbs and often higher) on his relatively small, 5'11″ frame probably helped that nickname along, too.
Falloon, for the bust he was, really is fortunate to have played when he did. Researching this, it wasn't easy to find much on Falloon or his career other than stats and short blurbs. If Falloon played in the internet age, he'd be getting destroyed on message boards every fourteen seconds and fans would have been out on him within five games because sports fans are completely irrational.
It's quite amazing, isn't it? Falloon, the first pick EVER for the Sharks, wound up being a huge bust and disappeared into relative obscurity in Manitoba. Even folks inside hockey circles need to be reminded of who he was and how bad his career turned out. Even then, it's mostly just "oh, yeah. Fat Balloon!" before the conversation shifts elsewhere.
He would toil away with the Sharks for three more seasons, posting one more solid season (53 points in 1993-94) before ultimately being traded to Philadelphia for left winger Martin Spanhel as well as first and third round picks in the 1996 draft (which would end up being Daniel Briere and Mike Martone, respectively).
Never able to match even his somewhat modest production, Falloon would bounce around the NHL until  2000, with stops in Ottawa, Edmonton, and Pittsburgh along the way.  After the 1999-00 season, he would play for HC Davos of  the Swiss League before retiring back home to Manitoba where he dominated the North Central Hockey League, a senior beer league.
Falloon is one of the forgotten busts of the NHL Draft era, getting lost in the sea of Alexandre Daigle's, Andre Zyuzin's, and Stanislav Chistov's. But to hockey fans far and wide, there will always come a time when the name "Fat Balloon" is uttered a brief wave of nostalgia will wash over them.
Then, just like Falloon, it will disappear.
6 Flares
Made with Flare

More Info

'>
6 Flares
×