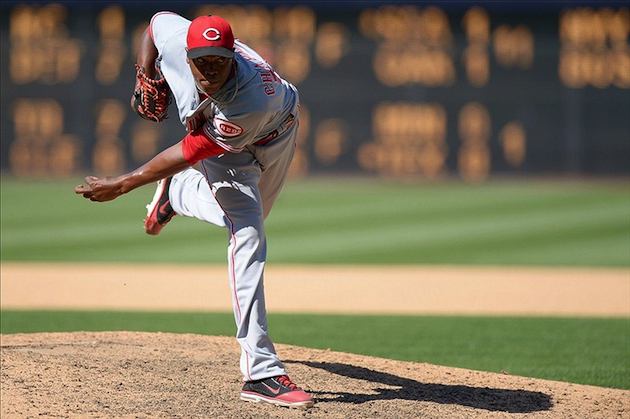 One of the biggest surprises of the 2012 MLB season was the emergence of Aroldis Chapman as one of the best closers in the league. Chapman joined the Reds in 2010 after being a highly sought after player from Cuba. Chapman could throw fast but didn't have great accuracy on his pitches until this year, when he broke out and was even considered in the Cy Young race by some at the end of the year. Chapman posted a 1.51 ERA while striking out 122 batters in 2012 and it looked as though he finally established himself as a great closer.
The Reds decided to pursue and sign former Dodgers and Royals reliever Jonathan Broxton though and have intentions to make him the new closer. With this move the Reds have decided to try Chapman as a starter. For a team that needs depth in the rotation, the move makes sense to bring one of your best players and try him at starter. Recent history tells us this isn't a great move though.
In 2007, the New York Yankees brought Joba Chamberlain to their club and he had immediate success as a reliever. In 24 innings Chamberlain gave up 1 run and with him and Mariano Rivera the Yankees had one of the best bullpens in all of baseball. After another successful 2008 season though, the Yankees decided that they wanted to try to use Chamberlain in their depleted rotation. Since his move to the rotation, Chamberlain hasn't been effective and more importantly hasn't been able to stay healthy.
This past year, the Red Sox decided to bring their young closer Daniel Bard into the rotation. Bard hadn't had the success of Chamberlain or Chapman, but he was a good pitcher for the Red Sox in the bullpen. When brought into the rotation, the Daniel Bard experiment was a disaster. Bard posted a 6.22 ERA and had major accuracy challenges before the Sox decided to send him back to AAA Pawtucket.
Being a starting pitcher is a whole different situation than those that the closer faces. They aren't used to pitching long games and the wear it puts on a starting pitchers arm is nothing like what a closer endures throughout the season. It could be especially troubling for the hard throwing Chapman, who consistently throws his fastball around 103 MPH. Chapman has also raised concerns over his pitch control, which would be magnified as a starter.
History tells us that moving a closer to the starting rotation is an awful idea. Why the Reds would want to mess up a great situation that they have with Chapman at closer makes no sense. The move won't turn out good for Chapman or the Reds and it should be stopped before it ever starts.
Stephen Chott
I'm Stephen Chott, writer of sports. A college student who writes about basketball, football and baseball. Follow me on Twitter(@S_Chott)
Latest posts by Stephen Chott (see all)